Master in Supercomputer Simulations in Science and Engineering
Home ›
Master in Supercomputer Simulations in Science and Engineering
Description du programme
This programme is designed to train specialists in the field of development, research and application of modern methods of supercomputer simulationsand processing of large volumes of data in science and engineering. Setting it apart from other courses of study, the curriculum boasts both scientific and design components and involves specialists in Russia and abroad in the fields of supercomputer simulationsand high-performance computer systems. Graduates are sought after by IT departments of government corporations, major IT firms and scientific research institutions.
Programme Overview
The Master's programme in 'Supercomputer Simulations in Science and Engineering' aims to prepare professionals in an interdisciplinary field, which intersects with computer technologies, natural science and engineering.
In addition to providing a comprehensive education in science, the programme offers training in high-performance computing and information sciences, including individual study tracks and research activities.
Who is the programme for?
This programme has been designed for students eager to become competitive professionals in developing, researching and applying cutting-edge methods of supercomputer modeling and Big Data analysis in science and engineering.
We welcome students with BA degrees in applied mathematics, information science, computer technology, physics, software engineering, and several other areas.
What are the Programme's key advantages?
Combination of research and projects based at leading research and engineering institutions;
Some of the courses are taught in English, and some of them also include lectures and workshops by globally renowned professors and foreign experts;
Academic mobility programmes; internships at leading research centres and universities;
Research internships at engineering and academic institutions;
Weekly research seminar 'Supercomputer Simulations in Science and Engineering,' which involves students in global research projects and takes them to international conferences;
All lecturers involved in the Master's programme have doctoral degrees from leading Russian or international universities and are the authors of numerous books and textbooks, as well as leading experts in their respective fields.
What will I learn?
The programme runs for two years. The courses are taught in Russian and English.
For the purpose of balancing out the variations in background knowledge among students, the programme offers bridging courses, such as 'Featured Areas of Mathematics' and 'Featured Areas of Physics'.
The list of subjects also includes:
Basics of Mathematical Modeling;
Methods for Extracting New Information from Big Data;
High-Performance Computer Programing Architecture and Methods;
Featured Areas of Statistical Mechanics;
Computational Aspects of Continuum Mechanics;
Knowledge-intensive Computation Programming;
System Engineering;
Modelling of the complex systems with lattice Boltzmann equation;
Reproducible computing;
Quantum mechanics. Selected topics;
Methods of storage and visualisation of information;
Architecture and methods of high-performance computing systems;
Machine Learning;
Thermodynamic modellling of many-particle systems;
Statistical Mechanics. Selected topics;
Monte-Carlo methods for physical systems;
Methods of molecular dynamics;
Scientific Computing and programming.
All study tracks include independent research projects.
Thanks to the weekly seminar 'Supercomputer Simulations in Science and Engineering', which is conducted by HSE MIEM, students have an opportunity to continue their education and develop their research skills.
What internship and career opportunities are available?
Students taking part in the programme and graduates may go for internships and find employment at research computing centres in Russia (MSU Research Computing Centre, NNSU, RAS Institute of Applied Mathematics, Kurchatov Institute, etc.) and abroad (Munich and Julich in Germany, Starkville in the USA, etc.), as well as leading research and production enterprises (RAS Computing Centre, RAS Centre in Chernogolovka, Landau Institute for Theoretical Physics, RAS Institute of Numerical Mathematics, T-Platforms, CROC, Kraftway, etc.).
Furthermore, the programme meets the demands of the current job market in regards to high-performance computing skills. We aim to train professionals who are highly sought-after by large IT companies and state corporations.
Requirements
1) Interview (up to 60 points) is conducted with the purpose of exploring one's motivation, scientific research work capabilities and English proficiency level. Foreign and nonresident applicants can have a web based interview.
2) assessment of individual accomplishments — up to 40 points.
Career Opportunities
Graduates of the Master's programme are usually able to find work in various interdisciplinary fields.
For instance, they can find work in the following areas:
design and development of research software;
developing, creating and maintaining information & communication systems, automatic control systems and databases;
developing information resources;
mathematical modeling.
Potential employers include Russian and international universities, research centres, public and private companies.
Mis à jour le Fév. 2020
À propos de l'établissement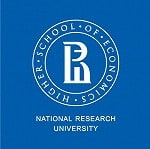 Consistently ranked as one of Russia's top three universities, the Higher School of Economics (HSE University) sets itself apart by its internationally-minded, research-driven approach to higher educa ... Continuer
Consistently ranked as one of Russia's top three universities, the Higher School of Economics (HSE University) sets itself apart by its internationally-minded, research-driven approach to higher education. Based in the vibrant center of Moscow, with campuses in St. Petersburg, Nizhny Novgorod and Perm, HSE offers outstanding academics at all levels and includes more than 25 English-taught Master's programmes and 8 English-taught Bachelor's degree programmes.
Réduire